I cannot believe how quickly the month has flown by. Several birthdays this month ... school activities winding down ... graduations ... cookouts / bbq's ... 80 degree weather followed by 40 degree weather ... (seriously, what is the deal with that????) a brand new puppy for D&P ... a brand new baby for the neighbors next door ... who can keep up with all this activity!?! And of course these events all merit some sort of papercrafting, whether cards or gifts or scrapbook layouts! Well I need to get the camera out and document some of the creations which have resulted - I have a lot of catching up to do!
So here's a card I made for a very kind teacher who gave of her talent and time to make a CD of the music Olivia will use for her Jazz Choir audition. It holds a Starbucks Gift Card inside, hence (who still says 'hence', besides me???) the title "Thank You ... a Latte" 5x5 card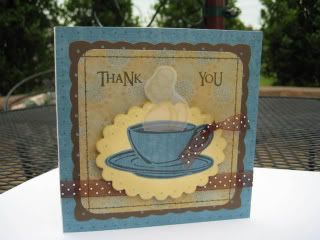 Twilight, Bamboo, Cocoa inks; B&T paper from Simple Pleasures pack, Cocoa, non-CTMH beige CS, vellum; May08 Stamp of the Month "Say It In Style", Coffee Shop, Spot On Backgrounds, Simple Stitches Stamp Sets; Scalloped Oval Nestabilities; Brown polkadot organdy RibbonFX. Steaming coffee cup mounted on scalloped oval is pop-dotted for dimension. And the inside has a little pocket to hold the Starbucks Card.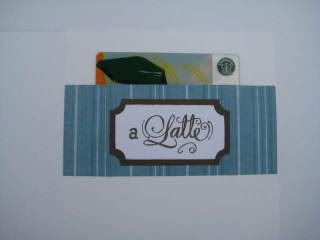 *inky hugs* Ava