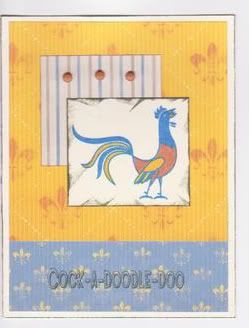 Remember that cute little guy from 1995? Well he's in college now - and last month he informed us he did well on his mid-terms. So I sent him this cute little rooster card. Inside it reads: Congratulations on your grades - that's something to crow about!
CTMH Free Spirit B&T papers, Autumn Terracotta brads, Technique Tuesday stamp set for the rooster and sentiment (I stamped him with Star Spangled Blue, and used markers in Autumn Terracotta and Sunflower.) Swiped the focal point mat with Cocoa.
When he got the card he told me his roommates think I have way too much time on my hands! the nerve!! Oh and ya, never heard the expression "something to crow about". Does that make you feel old? It did me!
*inky hugs*
Ava