Danica's best friend, Kassidy, got married last weekend, so of course I had to make a card. Lucky for me a wonderful artist and CTMH buddy, the fabulous Ms Vicki posted a lovely card that inspired me to (almost completely) scraplift. I believe the original is posted on Vicki's blog (see link list at right) and here is my version.
The only changes I made were that I used Technique Tuesday's Eiffel stamp set for the ampersand (inked with Grey Flannel, then overstamped with Platinum Planet), and CTMH Elegant Script stamp set for the Mr. Mrs.(in black), and also CTMH Curly Sentiments (in red) for the inside sentiment which reads: Wishing you the Best, today, tomorrow and always. Also, I ticket punched the corners and added the red sparkles and used Holiday Red organdy ribbon on the bow. And of course, the background texture was achieved with the Cuttlebug embossing folder 'Textile'.
I hope you likey and thanks again to Vicki!
My neighbor was blessed with a baby girl a month ago, so I made her an 8x8 scrapbook and a set of cards she could use as either thank you's or announcements. This is the card: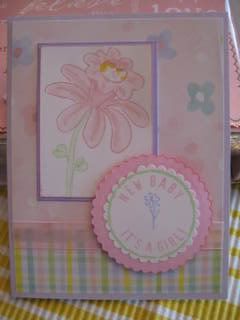 CTMH Sweet Pea paper pack, Flower Child and Express Postage stamp sets. Colors are Baby Pink, Key Lime, and Amethyst.
She liked them so well she asked me to make 30 more! (I'm getting on it, Susan, I really am!)
Last but not least, I jumped on the Stamping Bella bandwagon. I am sooooo addicted to these little beauties - they are so versatile and FUN! This card goes out to my buddy in Ohio who will completely understand the sentiment on the front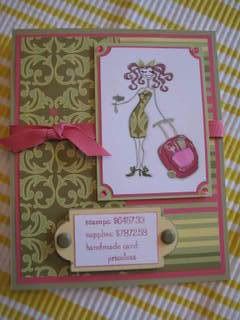 (I know my photography skills stink, so I will type it out: Stamps: $6457.33 Supplies: $7872.58 handmade card: priceless) Truer words were never inked! LOL
CTMH Boom Di Ada paper pack, marker inks Barn Red, Taffy, Grey Flannel, Hollyhock, Blush, Sweet Leaf; Cardstock in Hollyhock, Garden Green and Buttercup. Garden Green Bigger Brads, Hollyhock grosgrain ribbon.
There are many more bellas to come ... I've only put a dent in my Bella Wish List. I am going to play enabler now ....
www.scrappingbella.com
. You can thank me later. LOL
Well I've got 10 more cards to make tonight to finish a swap I joined. Better move it! G'nite!!
*inky hugs* Ava
ummm ya, I don't know if the last two cards got rotated in photobucket, or what, cuz they look like they's lyin down to me! grrrrrr Hopefully it will correct itself cuz I rotated and saved twice! arrrrrrggggggh photobucket!!!!!